Bradley Byrne Wins GOP Runoff in 1st District Congressional Race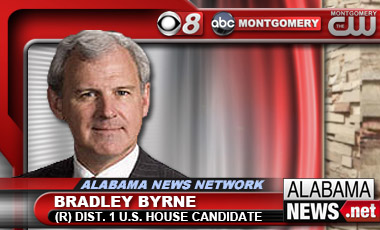 Bradley Byrne has won the Republican runoff in Alabama's 1st Congressional District.
With 91 percent of the precincts reporting Tuesday night, Byrne had about 53 percent of the vote; Dean Young garnered roughly 47 percent.
The Republican primary presented a classic clash between the two sides of the Republican Party. Byrne was the establishment candidate, drawing support from the U.S. Chamber of Commerce and two men who held the 1st District office, Jo Bonner and Jack Edwards. Young ran as an outsider, aligning himself with the tea party and drawing praise from Alabama Chief Justice Roy Moore.
Byrne advances to the general election Dec. 17 against the Democratic nominee, Mobile real estate agent Burton Leflore. Leflore has raised little money in a district that has voted Republican since 1964.
(Copyright 2013 The Associated Press. All rights reserved. This material may not be published, broadcast, rewritten or redistributed.)