Troy's Bowl Eligible With 42-28 Win Over Texas St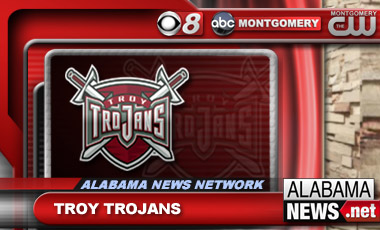 Jordan Chunn rushed for two touchdowns to help Troy became bowl eligible for the sixth time in eight seasons with a 42-28 win over Texas State on Friday.
   
Chunn set a Troy (6-6, 4-3 Sun Belt) record for touchdowns by a freshman with his 13th in the second quarter. He added another in the fourth quarter on a 1-yard run.
   
Sun Belt newcomer Texas State (6-6, 2-5) has now lost three straight games, since earning its sixth win against Idaho on Nov. 2nd.
   
Troy entered the game first in the conference in passing (12th nationally) averaging 324.5 yards per contest. The Trojans' two quarterbacks, Deon Anthony and Corey Robinson, combined to throw for 297 yards and three touchdowns.
   
Duke DeLancellotti tossed two touchdowns for Texas State, but also threw an interception.
   
It was senior day for Troy, as 22 seniors played in their final home game.
(Copyright 2013 The Associated Press. All rights reserved. This material may not be published, broadcast, rewritten or redistributed.)