Auburn Defeats Alabama in Final Seconds of Iron Bowl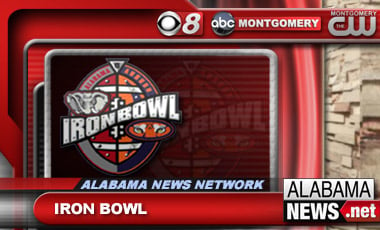 That crazy tipped pass for a long game-winning touchdown is now the second-most stunning and improbable play of Auburn's wild season.
Chris Davis returned a missed field-goal attempt more than 100 yards for a touchdown on the final play to lift No. 4 Auburn to a 34-28 victory over No. 1 Alabama on Saturday, upending the two-time defending national champions' BCS hopes and preserving the Tigers' own.
"We're a team of destiny," Davis said. "We won't take no for an answer."
Davis caught the ball about 9 yards deep in the end zone after freshman Adam Griffith's 57-yard attempt fell short. He then sprinted down the left sideline and cut back with nothing but teammates around him in a second straight hard-to-fathom finish for the Tigers (11-1, 7-1 Southeastern Conference).
"I knew when I caught the ball I would have room to run," Davis said. "I knew they would have big guys on the field to protect on the field goal.
"When I looked back, I said, `I can't believe this.'"
Auburn clinched a spot in the SEC championship game with the stunning victory over the powerhouse from across the state. The Crimson Tide (11-1, 7-1) several times seemed poised to continue its run toward the first three-peat in modern college football, but couldn't put the Tigers away.
Asked if it was the biggest win of his career, Tigers coach Gus Malzahn said: "It ranks right up there." But he said he'd "probably" still celebrate just like he has since his high school coaching days: With a Waffle House meal.
"That's what you coach for, that's what these kids play for, to get a chance to win the SEC championship," Malzahn said.
The Tigers put it away just when overtime on tap. The public address announcer in the stadium had already declared the game 28-28 at the end of regulation.
But Alabama got 1 second restored and one more play after a review of T.J. Yeldon's run to the Auburn 39.
That gave the Tide coach Nick Saban a chance to try the long field goal — and now he probably wished he never did, given the stunning result.
"It was a great game," Alabama quarterback AJ McCarron said. "Sometimes luck just isn't on your side.
"It's one of those crazy plays. It's almost like a video game. That's something you do on Madden or NCAA. It's just a wild play."
The entire field looked like a sea of orange shakers as the celebration continued long after the climactic finale of one of the biggest Iron Bowls in the bitter rivalry's 78-year history.
"We told our team that this is like March Madness," Saban said. "Coming into this game that if you want to keep playing in the tournament you have to keep winning. I was really proud of the way our guys competed out there today, but the fact of the matter is that we did not make plays when we needed to."