City Promises: Mayor John Bartholomew Talks About Plans For Opp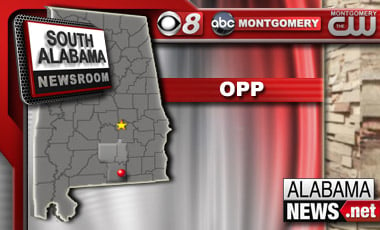 In 2012, John Bartholomew made a few promises to win the Mayor's seat. Promises like turning downtown Opp into a walking entertainment district, more jobs, and cutting power bills. Barthlomew says he plans to keep his promises, and changes will be seen this year.
"Year one was very interesting. (laughs) Um, never been in government before and realizing the ropes you go through," says Opp Mayor, John Bartholomew.
Those ropes for Mayor John Bartholomew include getting a $400,000 grant to help repair the downtown Depot. A promise he says will create an entertainment district. Construction is supposed to start before the end of the year, "And that way we can have music on the weekend the shops will be opened, and people can walk around the shops and listen to the music and have a good time," says Bartholomew.
The new jobs promise is still being worked on. Bartholomew says if retailers keep their promises to make a home in Opp, the jobs will be created. This will happen only after a secondary road is built on hwy 331 to make a piece of retail property easily accessible to shoppers from the highway, "People promising that they'd like to come in on to it, and again they'd like to see the road cut. The road, we'll probably be done with the road probably later to the end of 2014, and we're hoping to have some retailers signed up on that," says Bartholomew.
Residents we talked to have mixed reviews on Mayor Bartholomew's first 14 months in office. Earl Shear, who has lived in Opp for over 80 years, says, "I'm disappointed in a lot of the things they've done. And one of the promises that I think about the mayor, was in promising that he could cut our light bill."
Joe Richburg, a lifelong resident of Opp, says, "We had a wonderful Christmas parade, we've had a wonderful Oppfest, we had a great Rattlesnake Rodeo last year, looking forward to this year, those things bring people together in town. And that's what it's all about."
The mayor says he believes he has made good his promises to bring honesty and integrity to the city. He also says 2013 was a year to plant a garden, and in 2014 he says Opp will see that garden grow.