Denson, Auburn Beat Mississippi State, 92-82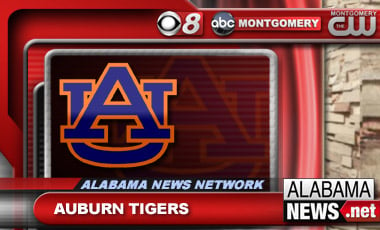 Chris Denson scored 30 points and KT Harrell added 26 to lead Auburn to a 92-82 victory over slumping Mississippi State on Saturday.
   
The Tigers (12-12, 4-8 Southeastern Conference) snapped a two-game losing streak and matched their season-high in points.
   
SEC scoring leader Denson reached 25 points for the fourth consecutive game. Harrell rebounded from a 2-of-15, seven-point performance in a loss to No. 14 Kentucky.
   
The Tigers made 37 of 41 free throws in the game to hold off the Bulldogs (13-12, 3-9) after building a 21-point lead.
   
They hit 11 consecutive free throws over the final 2:33 in a game when six players fouled out.
   
Trivante Bloodman had 18 points, nine assists and six rebounds to lead Mississippi State, which has dropped seven in a row since beating Auburn in Starkville on Jan. 22. Bloodman made 14 of 15 free throws.
   
Gavin Ware had 15 points, Roquez Johnson 14 and I.J. Ready 12.
   
Denson was 10 of 11 from the line for the Tigers and Harrell made 13 of 14 attempts.
   
Denson, who had just nine points in the first meeting, scored 20 in the second half.
   
The Tigers scored 30 points off Mississippi State's 21 turnovers.
   
Much of the game was spent at the line, where Mississippi State was 29 of 36. Auburn had four players foul out and Mississippi State two.
   
Bulldogs leading scorer Craig Sword had eight points before picking up his fifth foul with 2:34 left after making two straight baskets.
   
Auburn led by as many as 21 points early in the second half. The Bulldogs came to within nine points a number of times after that but could get no closer until Jacoby Davis's 3-pointer cut it to 88-80 with 33 seconds left.
   
The Bulldogs made only one field goal over the final 12 minutes of the first half. The Tigers scored the final 10 points before halftime and closed on a 27-6 run to build a 40-25 lead.
   
Harrell score all of his 14 first-half points in the last 10 minutes.
(Copyright 2014 The Associated Press. All rights reserved. This material may not be published, broadcast, rewritten or redistributed.)