Randolph Leads Alabama Past Auburn, 73-57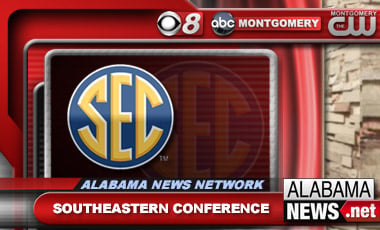 Levi Randolph scored 24 points and Alabama rolled to a 73-57 victory over rival Auburn on Saturday in a matchup of the Southeastern Conference's 11th-place teams.
   
Trevor Releford added 16 points for the Crimson Tide (12-17, 6-10 SEC), which has won seven of the last nine meetings with the Tigers (13-14, 5-11) and five in a row at Coleman Coliseum.
   
The Tide built the lead as high as 21 points just a month after losing at Auburn 74-55. Retin Obasohan had 13 points.
   
Randolph, who managed just one point against Auburn earlier, made 4 of 6 3-pointers and had nine rebounds.
   
KT Harrell led Auburn with 21 points but Alabama held the league's top scorer, Chris Denson, to a season-low six points.
   
Denson was 2-of-15 shooting after scoring a career-high 32 points in the first meeting. Harrell also struggled from the floor, going 7 of 19.
(Copyright 2014 The Associated Press. All rights reserved. This material may not be published, broadcast, rewritten or redistributed.)