Troy Football Holds Second Spring Scrimmage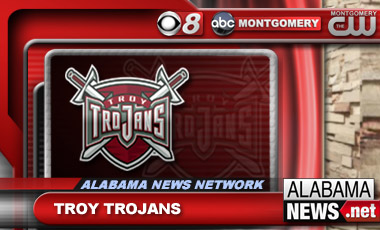 (Courtesy: Troy Athletics)
The Troy football team ran approximately 80 plays during a scrimmage Saturday morning in Veterans Memorial Stadium. It was the second scrimmage of the spring for the Trojans and the last before next Saturday's T-Day Spring Game.
"It was a beautiful day and the tempo was pretty good," head coach Larry Blakeney said. "I thought the defense did some good things and we are getting better over there. We've got positions on offense that this upcoming week will be a big move week for them. We've got to develop more at quarterback and receiver, but I thought our inside receivers and tight ends are going to be good for us."
Redshirt freshman Brandon Silvers worked as the No. 1 quarterback on Saturday, while junior college transfer Dontreal Pruitt took the majority of the snaps with the No. 2 offense. Juniors Dallas Tidwell and Connor Bravard also saw significant snaps on Saturday.
"I still think that Silvers has had the best spring to this juncture and he is starting to feel more confidant," Blakeney said. "Dontreal has great body language, but has a little bit of a learning curve since he hasn't been here. I thought Dallas made a great touchdown pass on the wheel route; there are some good things happening at that position."
Silvers signed with the Trojans back in 2012 and elected to grayshirt that fall before using a redshirt this past season.
"We're just trying to get better every day," Silvers said. "We played a lot better today than we did in our first scrimmage. We were able to push people off the ball and ran the ball a lot better."
Despite several starters on the sideline, including defensive tackle Lonnie Gosha and linebacker Mark Wilson, the defense made several big plays during the scrimmage. Redshirt freshman defensive end Jamal Stadom and junior cornerback Chris Davis had solid days for the defense.
"We are getting a lot of work in on our tackling," Blakeney said. "There are some things that run through their minds these days due to the rule changes. If we go in there and tackle like we used to and you get one of those targeting fouls, then you miss a half and then another half and then it disrupts the program."
T-Day is scheduled to being at 12:30 p.m. next Saturday (March 29) in Veterans Memorial Stadium and admission is free. The football program will hold a reunion for all former players and coaches with registration beginning at 10:30 a.m. in the Tine Davis Fieldhouse.