Two Wrecks Make Drivers Question I-85 Safety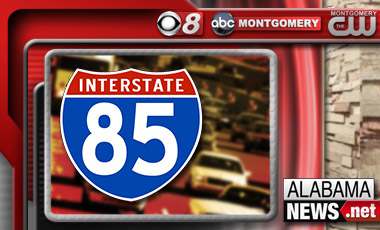 Two dangerous wrecks slowed Interstate 85 to a crawl.
One left a driver dead, and other drivers are now concerned about their safety on the interstate. 
One of the accidents happened here near exit 33 southbound on I-85. All these accidents have a lot of people concerned about driving on the interstate. 
The accident happened around 10 in the morning and involved three cars and two 18 wheelers. There were injuries, but troopers say everyone was ok. 
But the crash from around 1 in the morning was much more serious. Just a few miles down the road near the Tallasee exit, one semi truck took out a guardrail and crashed, leaving the trailer in the water. The driver was killed in the crash. 
State Trooper Steve Jarrett says before the roads could be opened again, the bridge would have to be checked.
"Well there is some damage to the bridge as you can see the guardrail is torn up. There's fluids, oils, diesel fuels spilled on the roadway itself. The bridge will have to be inspected for structural integrity," said Sgt. Jarrett.
Reginald Knutta was caught in the miles of traffic, and says he's always thought the roads were a problem. 
"The roads are in very bad condition, all the way from here as far as Virginia all the way. Interstates and secondary roads are just very deteriorated and I consider dangerous," said Knutta.
And Lisa Sloan thinks that part of the problem is all of the construction taking place on I-85.
"When you get to that area with the multiple overpasses being built, everyone slowed way down. I know there wasn't any construction yesterday. But it was very confusing in that area," said Sloan.