High Waters Begin To Flood Areas In Wetumpka And Montgomery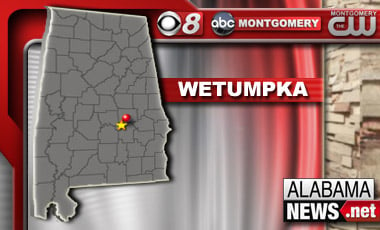 From Montgomery — over-flowing rivers in our area are getting higher by the minute. The waters are now reaching land and Alabama Power officials say they're doing everything they can to keep it under control.
The Coosa River on Wetumpka's Riverfront is about 38 ft. deep now — that's 10 ft. higher than usual. It's a problem caused by all the excess rain Alabama has had. It's why Alabama Power has had to open the flood gates at Jordan Dam.
This is exclusive video from on top of Jordan Dam in Wetumpka. Just hours ago, all of its flood gates were open by Alabama Power. While some have closed, still, the roaring water is making its way onto land.
The high waters have even submurged the public access fishing pier near the dam — it is temporarily closed.
Just down the Coosa River is Wetumpka's riverfront. Orange cones now block its entryways. Barbara Olds walks the trail everyday there and says seeing water flooding the benches, sidewalks and grass was a shock…
"Last April it was up. There's a side walk here and it came to the sidewalk. But this is the highest ever that I've seen it," Said Olds.
154,000 cubic feet of water a second — and it's also feeding into the Alabama River.
Montgomery's riverfront was also submurged in about 36 ft. of water. It usually sits about 20 ft. deep.
"The surfaces down here under the water because of the amount of silt that the river is carrying become very very slick and we don't want anyone to fall," Said Ken Reynolds with Montgomery Riverfront Facilities.
 Alabama Power's area manager, Mike Jordan says they're trying to control the waterways. How long they'll be open for will depend on how much rain Alabama gets in the following days..
"We'll continue to manage additional rainfall just as we did with the rainfall from this past week.  We have a group of experts that are watching this all the time and we'll manage it," Said Jordan.
Now, the floods have closed both riverfronts. Gold Star Park and its boats ramps along Wetumpka's riverfront will be closed until at least Thursday.
Alabama Power says the dam will likely stay open through the weekend, although they haven't set an exact date. They're asking people to take caution in low-lying areas.