Covington Co. Deputy Killed In Car Wreck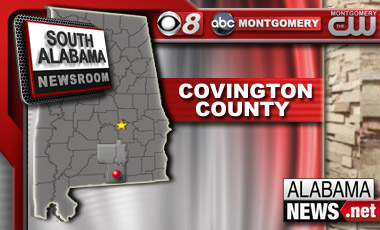 Covington County's sheriff is talking to us tonight after one of his deputies was killed in a wreck this morning.
It's been a tough day at the Covington county sheriffs office as they've lost one of their own: Deputy Heath Kelley. He was killed in an early-morning car wreck.
A black ribbon on the door of the Covington County Sheriff's Office represents the life of deputy Heath Kelley. He's the officer Sheriff, Dennis Meeks, says risked his life for the life of others.
"He loved assisting people which is no surprise that is what he was going to do this morning," Said Meeks.
He says Kelley was on his way to an accident when he crashed on the intersection of Highway 55 and the South Bypass. Alan Syler happened to pass by him and found this car… and Kelley inside of it.
"It was like this couldn't really be happening to me it was just shock you know I was headed to the same accident that he was headed to and I turned the curve and there was a patrol car on the road," Said Syler.
Sheriff Dennis Meeks says the preliminary investigation shows that hydroplaning could be a factor in the crash.
"Sadly he lost his life doing what he loves," Said Howard West with the sheriff's office. "And we get the profession of doing what we love for the community and Heath went beyond the call of duty. He did the ultimate sacrifice."
A sacrifice those with the sheriff's office say makes Kelley a hero.
"I just want to let him know how proud that we are of him of his accomplishments that he's had in such a short time that he's been here… and we are going to miss him," Said Meeks.
Kelley spent eight year working with the Covington County Sheriff's Office. Four of those working at the jail, the other four as a patrol officer.
Alabama State Troopers say the driver of the car has non-life threatening injuries.
Sheriff Meeks says they're awaiting results from Kelley's autopsy.
A funeral date has not yet been set.