Faulkner Takes Closer Look at Conduct Policy in Light of Shooting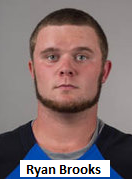 Three Faulkner University students charged with murder made their first court appearance today.
Marshall Wall, Ronnie Williams, and Tabias Russell, all 19 years old made their first court appearance this morning at the Montgomery County Courthouse for a preliminary hearing.
According to the Montgomery County DA, they are all still in jail on a 75-thousand-dollar bond.
The charges come after a a fourth student–19-year-old Ryan Brooks—was shot and killed by a homeowner as the four tried to break into a home on Woodmere Boulevard Wednesday night.
Brooks, Russell and Williams were all on Faulkner's junior varsity football team. 
"I do not feel that it is over simply because there's always rumors, there's always innuendos, there's always things that pop up and we're going to run every one of those to the ground…" says Tony Dean, Falukner Police Chief.
Faulkner University says counselors are are available for students and staff. 
The university also says it's taking additional measures to prevent things like the shooting from happening again. Read the statement released by the university below: A Message from Faulkner University President Billy Hilyer As the events of the last 48 hours have unfolded, additional information has been discovered regarding the off-campus shooting death of Ryan Brooks, and the subsequent arrest of three Faulkner students, Marshall Wall, Ronnie Williams and Tabias Russell. The Montgomery Police Department developed information that Brooks and three other subjects attempted to enter the residence of Franklin Williams, a Faulkner student and former athlete, to commit a robbery. In the course of the robbery attempt, Brooks was shot by Williams in self-defense and was pronounced dead at the scene. According to court documents, Brooks, Wall, Williams and Russell were attempting to steal illegal drugs. In addition to this criminal investigation, we will continue to use our student conduct process to address these students and any others who may have been involved. Needless to say, I am very shocked and dissapointed to discover the involvement of drugs in this already tragic event. Faulkner has always sought to maintain a safe, Christian environment for all of our students, faculty and staff. In our 72 year history, Faulkner University has never experienced an incident like this. We have and will continue to enforce a comprehensive disciplinary policy for any violations involving illegal drugs. Through the recent transition from a security department to a certified Police Department, the hiring of additional police officers and an increase in training, resources and response capabilities, Faulkner has continued to ensure the safety of our students, faculty and staff. This incident has caused us to take decisive action to assess the scope of any drug-related issues on our campus and implement additional measures to prevent this unacceptable behavior. Initially, Faulkner University plans to: – Pursue a change in our athletic policy from random drug testing to a more rigorous policy. – Review our process of vetting prospective students. – Provide a more thorough educational awareness process regarding illegal drugs to our campus community. – Implement a confidential process to allow any member of our faculty, staff or student body to report any suspicious activity, including activities involving illegal drugs. I am deeply saddened by the events that have transpired. This tragic incident is completely counter to everything that we stand for at Faulkner. Faulkner University is a Christian university, not only in name, but in the way we conduct ourselves, as an example of Jesus Christ.