Group Pushes For Elimination of Toy Guns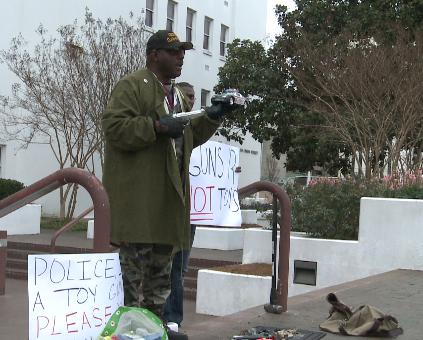 Now that Christmas is over, those toys that were under the tree are in the hands of children. But one toy is drawing controversy across the country.
The Outcast Voters League held a press conference and demonstration Saturday. Outside of the statehouse they smashed toy guns as a way to spread their message of eliminating this type of toy. They say this comes after nationwide outrage after a 12 and 22-year-old were killed when police officers thought their fake weapons were real.
They say they are going across the country for the next 13 months, they hope to then have a boycott to push retailers to stop selling toy guns.  
Carlos Chaverst, a member of Outcast Voters League said, "Everyone has their right to bear guns. We aren't after guns we are after toy guns because toy guns there's nothing, I don't think there's anything a toy about a gun."
There are different pieces of legislation involving toy guns across the country. One city in New Jersey actually bans realistic looking toy guns.