Mayor Todd Strange – "No Bus Routes to be Eliminated"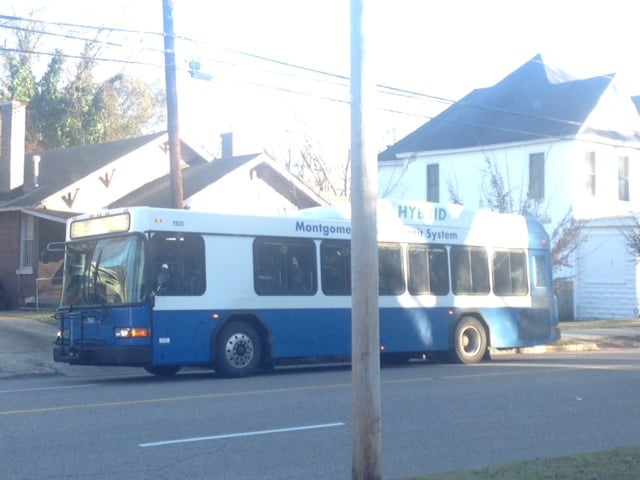 [gtxvideo vid="4RtSb0uL" playlist="" pid="XiOflQdH" thumb="http://player.gtxcel.com/thumbs/4RtSb0uL.jpg" vtitle="Bus Routes"]
Those who ride Montgomery buses can breathe a sigh of relief tonight.
After months of speculation, Montgomery Mayor Todd Strange says there will be no bus route eliminations in the city. But residents say there's still work to be done with the public transit system.
Alabama News Network was the only TV station there.
It costs about six million dollars to operate the bus system and that's about 600 thousand dollars over what's budgeted. The city forgave about 300 thousand dollars of that, which left them 300 thousand in the hole. So city leaders looked for ways to cut costs and did so without getting rid of bus routes.
Montgomery bus riders left Monday afternoon's Transportation Coalition meeting at ease after learning that no bus routes were getting eliminated.
"It's very important to a lot of people, even myself," says Montgomery resident Randy Robinson. "I use it a lot to ride to my doctor's appointments. It's just very convenient."
Montgomery Mayor Todd Strange says instead of eliminating routes, the city will find other ways to cut costs.
"I was fully anticipating that we would have to make some changes to the bus routes," says Montgomery Mayor Todd Strange. "It looks like we will not have to make any significant changes, if we have to make any changes."
Reduced maintenance costs, fuel savings and money from the general fund budget and capital expenditures will allow the city to make up the 300 thousand dollars needed for the bus system to fall within budget. But there's more good news. Montgomery will install 10 new bus shelters with benches by the spring and the city will get 11 new gas-operated busses in 8-10 weeks, something that surprised even City Councilman David Burkette.
"I'm surprised to hear that we had another three but I knew we had enough funding to get eight of them but we'll eventually end up with 11 of them and that is a blessing," he says.
Riders are happy but say there's still more work to do. 
"It will be good to have the new busses but it'll be good to see where they go and what busses they replace because like Linda said, we are in desperate need of new busses," says resident Alaina Walker.
"I'm proud of the speech that the mayor made and I'm glad that they're going to let the buses stay like it is at this time and I hope everything works out," says Sally Anne Robinson.
Some of the money that will be used to purchase those new busses and shelters will come from grants. If you're wondering why the city purchased gas-operated busses, it's because they are cheaper to operate than diesel.
There may be some route modifications but city leaders say the changes won't be big enough to notice.