"March: Book Two" Released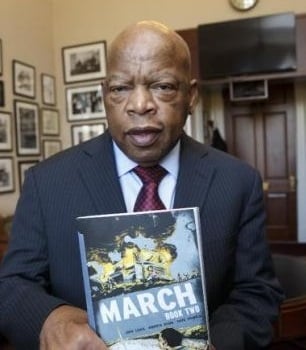 A comic book about Martin Luther King, Jr. helped bring a young John Lewis into the civil rights movement.
   
Fifty years later, the Georgia Democratic congressman is now hoping graphic novels about his life and the fight to win equal civil rights for all Americans will serve as a guide for protesters today as they seek justice.
   
"March: Book Two," the second volume in a trilogy of graphic novels chronicling Lewis' life, was released this past week.
Lewis hopes that the "March" trilogy has the same effect on youth as the 1957 comic book "Martin Luther King and the Montgomery Story" did for him as his contemporaries.
   
Lewis marched for voting rights in Alabama and was severely beaten in 1965, in events depicted in the movie "Selma."