Alabama Lawmakers Vow To Add Charter Schools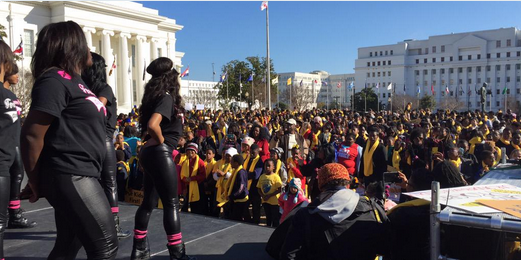 [gtxvideo vid="ki9pTsOW" playlist="" pid="XiOflQdH" thumb="http://player.gtxcel.com/thumbs/ki9pTsOW.jpg" vtitle="Hundreds march"]
Hundreds and hundreds of students made their way up Dexter Avenue to show their support for school choice.
That includes De'Antay Curry, who now attends private school in Birmingham thanks to a scholarship through the Alabama Accountability Act. 
"Stuff I haven't learned in public school I learned in private school now. Like math, different levels of math, science, all that. It's just very good," said Curry.
Once the crowd made its way to the capitol lawn, several speakers took center stage including Speaker of the House Mike Hubbard and Senate President Pro Tem Del Marsh.
They vowed to pass a charter school bill this year to pave the way for more school choice.
"Well it's important that we just don't maintain the status quo when it comes to education and charter schools are just another option that's available to make sure that every child has access to a school that's suited for them," said Speaker Hubbard.
Not everyone thinks charter schools are the answer. The Alabama Education Association had its own rally as the marchers walked by.
"Many of the model legislation that is being proposed or is said to be proposed is from Louisiana, Florida, and Georgia. Statistics show that charter schools have done vastly horrible in those areas," said AEA Associate Executive Secretary Greg Graves.
Hubbard points to other states and says charter schools have been a success. AND He's worried that AEA isn't looking out for students' best interests.
"They're all about maintaining the status quo and doing the same thing over and over and over again. They also have the mentality if you can't help all the children in the state, don't help any of them. To me that's just a flawed approach," said Hubbard.