Towering Above Tragedy: The Donta' Hall Story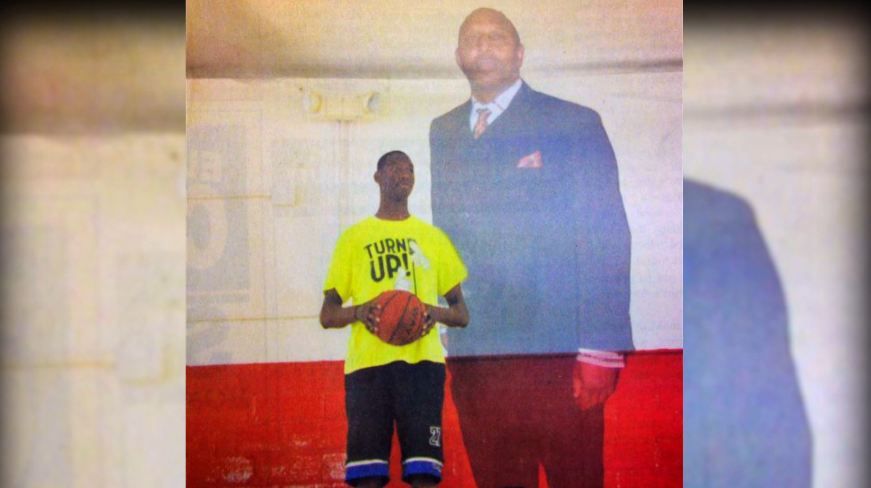 [gtxvideo vid="OCsQPsuQ" playlist="" pid="XiOflQdH" thumb="http://player.gtxcel.com/thumbs/OCsQPsuQ.jpg" vtitle="Towering Above Tragedy: The Donta' Hall Story"]
By Ben Bolton
LUVERNE, AL—- Donta' Hall towers above his competition on the basketball court, coming in at 6'11". And while his height has attracted the looks of many college scouts, Donta's real motivation comes from the memory of a loved one he lost.
On November 30th 2010, Donta made his debut on the JV team, his dad, Donald Hall, was there to watch him play. But the day would soon turn tragic for Donta and his number one supporter.
"The game had just ended," said Luverne High School basketball coach Richard Dorsey. "We had just finished shaking hands with the other team. We were walking off the court and then all of a sudden I heard some commotion up top. I went to look and I see him just laying down."
"I walked into the locker room and I was taking off my jersey and somebody told me I better go check on my dad," said Donta' Hall. "He was sitting up top so I walked out and I was going up the steps and they told me not to come up there. After that I just turned around because I knew something bad had happened."
Donald Hall had a heart attack while watching his son play basketball. 
He passed away at the age of 45.
"When his dad passed, I think that really pushed him towards the basketball," said Mary Hall, Donta's Mom. "It was something they did in the backyard. They would get the basketball and go out there and play and stuff. And right after the funeral and the day after we buried him, he picked up the basketball and went out to the backyard and went to playing. I said, he's going to be okay."
As Donta' grew in size and popularity, he needed someone he could look up to and he 
talk to. 
Coach Dorsey was there to help.
"I just knew I would have to be more available for him when needed," said Dorsey. "Just when needed and you know, just try and step in whenever I can and just be the shoulder to lean on whenever he need to."
Over the last few years, Coach Dorsey has been there to help guide Donta'. He especially helped when phone calls started coming in from colleges like Troy, Georgia, and Mississippi State.
"I was getting calls from here, there, and momma she was starting to stress a little bit about the coaches calling her phone and all that," Hall said. 
But it was the call from the University of Alabama that changed the game.
"Both him and his dad, you should have heard them when Bama come on," said Mary Hall. "You best of be quiet because they're the only two your going to hear in the house."
"He loved Bama," said Hall. "Just about everything in the house that was his, was Bama."
Donta' signed with the Crimson Tide almost four years to the day that his dad passed away. He chose to hold the ceremony in the stands, the last place he saw his dad alive.
"Him being an Alabama fan, and me putting on that jersey, in Alabama, for Alabama, like I knew it would make him happy," said Hall.
Donta is getting ready to play the last games of his high school career. He'll graduate in May, then head to Tuscaloosa. And from there, anything can happen.
"When he gets to the next level I think he is going to excel," said Dorsey. "I think he is going to take off. The sky is the limit. Do i think he can make it to the next level beyond college? Yes I sure do. But I know it's going to take some work. But he's a hard worker."
"The way I look at it, I've just got to do what I've got to do at Bama. And if god leads me to where i need to go, that's where I'm going," said Hall.
In the meantime, this basketball standout is cherishing every moment. 
Whether he's dunking, joking around or listening to gospel music, Donta knows there is someone he can look up to, and a place in the stands where can sit, and remember.
"My dad was a man who didn't give up on nothing he got in his head that he was going to do, so that's where I got it from," Hall said.