Local Reaction to Aaron Hernandez Sentencing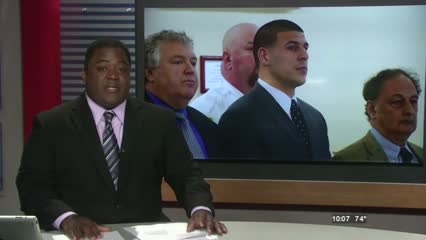 [gtxvideo vid="FluiQkj9″ playlist="" pid="XiOflQdH" thumb="http://player.gtxcel.com/thumbs/FluiQkj9.jpg" vtitle="Reaction to Hernandez Verdict"]
Aaron Hernandez is just the latest headline of an athlete falling from grace.
Sports analyst John Longshore says it can be a difficult subject for coaches to address.
"I think there are a lot of coaches on the collegiate level and NFL level that realize there are players of questionable character. Unfortunately, it's a big business. They are looking for athletes. People who can win football games, basketball games, baseball games, whatever it might be. If they don't recruit or if they don't draft these types of players, their opposition is and they're going to beat em with them," said Longshore.
Football fans we talked to say they think the NFL should do more to help instill positive character traits in their players.
Niroby Dingle says, "I think they are trying to go in a better direction and also when you have these players that have a troubled past, have mentors. I know they have programs available but those troubled players need more."
Mario Dailey says, "I would say classes. But you know that kinda don't help because they're grown individual adults… That's about all I can say."
But when it comes down to it, mentoring classes or not, Longshore says there has to be something else there.
"I mean you can lead a horse to water… But these guys have got to want to rehabilitate themselves. They have got to want to be better people and a lot of it is the element in which they live in, their friends, their families might not be working to get them to a level of being a better person," said Longshore.