Secretary Specer Collier Warns Against ALEA Budget Cuts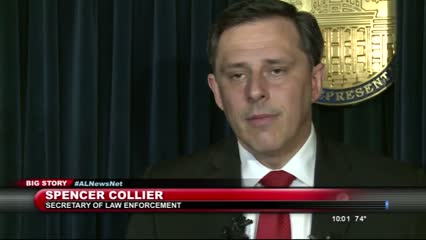 [gtxvideo vid="beLxM2bk" playlist="" pid="XiOflQdH" thumb="http://player.gtxcel.com/thumbs/beLxM2bk.jpg" vtitle="Head of Alabama Law Enforcement Talks about Possible Cuts"]
A dire warning tonight about the proposed cut to the state's law enforcement agency budget.
ALEA Secretary Spencer Collier says the proposed 30 percent cut to their department would put Alabamians in danger.
The state law enforcement agency will go from a 55 million dollar budget to a 39 million dollar budget under the proposed general fund budget. And officials with ALEA say they're already operating at the bare minimum.
"This budget, these numbers are atrocious."
That's the message Alabama Law Enforcement Agency Secretary Spencer Collier wanted to get across to the legislature Wednesday afternoon. Collier is protesting a proposed 16 million dollar budget cut to his department.
"If they're going to budget us at 39 million dollars, I have no choice, no choice," he says. "This is bad for Alabama. But I have no choice but to do these layoffs."
Collier says if the general fund budget passes as is, they'll be forced to work with less staff.
"99 uniformed troopers would be laid off under that budget. In addition to that, we would also lay off some special agents, we would lay off some capitol police troopers, and then two-thirds of all civilians that work for ALEA would be laid off."
State trooper Steve Jarrett says the proposed cuts would put Alabamians at risk.
"What you're going to see is crashes increase, injuries and fatalities on the highways increase," he says. "You're going to see crime increase and basically the public safety is going to decrease."
Senate President Del Marsh says he understands both sides on the issue but says it's a tough situation.
"I don't know what else to tell Commissioner Collier or any others that come into my office everyday. We have a limited amount of money in this state to deal with those agencies that needs those dollars and we're doing the best we can."
In addition to layoffs, Jarrett says if this proposed budget passes, troopers would only be able to do these three tasks; investigate crashes, fingerprint and issue drivers licenses. Nothing more.