Former Speaker Hubbard Begins Appeal of Ethics Conviction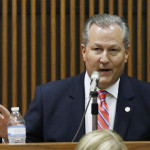 Former Alabama House Speaker Mike Hubbard is appealing the ethics conviction that removed him from office.
Hubbard's lawyers filed the notice of appeal Wednesday with the Alabama Court of Criminal Appeals.
The appeal comes after the trial judge denied Hubbard's request for a new trial.
A jury in June convicted Hubbard of using his public office to obtain work and investments in his companies. A judge sentenced Hubbard to four years in prison. He is free on bond while he appeals his conviction.
Hubbard's defense has argued that prosecutors stretched the intent of the state ethics law, allowed improper expert witness testimony and that there was evidence of possible juror bias in the case.
(Copyright 2016 The Associated Press. All rights reserved. This material may not be published, broadcast, rewritten or redistributed.)