Bentley offers to meet privately with impeachment committee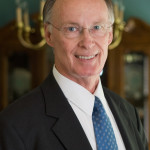 Alabama Gov. Robert Bentley is offering to meet privately with members of an impeachment committee to answer any questions they have for him.
Bentley sent letters Thursday to House Judiciary Committee members asking for a Nov. 10 meeting in his office. The governor said he wanted to have an open discussion and would try to answer all questions posed to him.
The committee is investigating if Bentley committed any impeachable offenses in his relationship with a former aide and his dealings with his fired law enforcement secretary.
Bentley said he did not want the committee's special counsel or recording devices at the meeting.
The governor's letter comes after the committee made a formal demand for Bentley to give sworn testimony before their special counsel on Nov. 9.
(Copyright 2016 The Associated Press. All rights reserved. This material may not be published, broadcast, rewritten or redistributed.)