Starbucks Rolls Out 'Unity' Cup Ahead of Election Day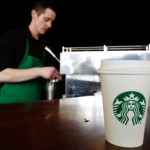 One week before Election Day, Starbucks has unveiled a new cup in the U.S. that it says is meant to be "a symbol of unity."
The green cup features a mosaic of more than 100 people, including a coffee farmer and barista.
Starbucks CEO Howard Schultz calls it "a divisive time in our country" and says in a statement that the coffee giant wanted to come up with a symbol to serve "as a reminder of our shared values."
The cup debuts Tuesday, the same day Seattle-based Starbucks brings back its traditional holiday drinks. But, the company isn't saying if it will replace the somewhat derided red holiday cup from last year. The simple red design of that cup was criticized by some for lacking in holiday spirit.
(Copyright 2016 The Associated Press. All rights reserved. This material may not be published, broadcast, rewritten or redistributed.)