Tuskegee Airmen Receive Congressional Gold Medal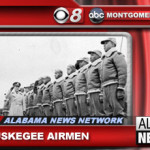 Two members of the celebrated Tuskegee Airmen have received Congressional Gold Medals during a Veterans Day ceremony at the National Warplane Museum.
Relatives of three other recipients accepted medals on their behalf during Friday's ceremony attended by about 200 people at the western New York museum.
The Tuskegee Airmen were recruited into an Army Air Corps program that trained blacks to fly and maintain combat aircraft during World War II. They trained as a segregated unit at an air base in Tuskegee, Alabama.
Congressman Chris Collins presented the replicas to Airmen Wallace Higgins and Herbert Thorpe, who also accepted one on behalf of his late brother, Richard.
President George W. Bush presented the prestigious Congressional Gold Medal to the group in 2007, entitling individual members to receive bronze replicas.
(Copyright 2016 The Associated Press. All rights reserved. This material may not be published, broadcast, rewritten or redistributed.)