i-Team: "Montgomery Rising?" pt. 3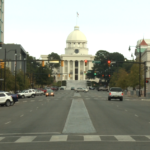 Taking a walk up Dexter Ave. in downtown, Montgomery is like taking stroll down memory lane. It leads to the state capitol where the first and only president of the confederacy, Jefferson Davis, took the oath of office. Dexter was the final leg of the Selma to Montgomery march, which lead foot soldiers right past the church where Dr. Martin Luther King, Jr preached, to steps of the capitol where he delivered his famous "How Long, Not Long" speech during the Civil Rights Movement.
And the capital city is known for more than civil war and civil rights. It's also home to one of the most influential country music artists: Hank Williams. The city's history is written and there's clearly much to celebrate and learn from, but are we so focused on the past, that it prevents us from moving toward a bright future? A future that makes people want to stay here and live out their dreams here.
"I think we have an amazingly rich history, but I don't think we're looking far ahead enough," said Montgomery native and Downtown Business Association President, Clay McInnis. McInnis, 29, moved back to Montgomery after attending Auburn University.
He considered other cities after graduation, but chose to return home. "I feel we have a vision for the city I feel there's a great community behind a lot of the efforts going on and I feel like there's so much opportunity in Montgomery."
Opportunity, McInnis believes, is what will fuel not only future success, but future growth of Montgomery's population. "Often time, people come to me and say 'Atlanta has this, Chattanooga has this,' We're not Atlanta, we're not Chattanooga, we're Montgomery, Alabama. I will say if you're a millennial or anybody at any age that's looking for total passive activity; go here do this just as a passive consumer, this might not be the optimum place for you. If you want to put on a tool belt and build your idea or you passion this is the exact place you need to be because the opportunities are endless and other people will buy into that,"
Elton Brooks, in his mid 30s, attended Alabama State University and Troy University Montgomery. He decided to stay after graduation.
Brooks has made a good life for himself in the capital city and thinks the city is on the right path to a bright future. He's lived in Montgomery for 18 years. "I don't think that it looks back too much because of the history that's here. I think it has to be a part of the conversation. I think you have to look back to know where you come from then you begin to have those serious conversations then you figure out how you move forward from it."
Brooks believes better education and more opportunities to connect like minded people to each other is what will keep people in the Capital City. Clay McInnis agrees, but says Montgomery also has to do a better job of telling its own story about the positive things happening in the city.
"We're building intentional community through platforms that connect people to people and people to resources like Connect MGM," McInnis says, "so that people can find a place where they fit and feel like they have purpose in Montgomery.
Beyond telling Montgomery's story, McInnis says members of the community have to start engaging in open and frank discussions about how they view and interact with people who are different from them. "I think what hurts us most is just really being honest with each other and letting us love one another unconditionally. When you go to other communities and see the acceptance and social togetherness; let's be honest; Montgomery needs to do more of this. Montgomery needs a more holistic approach and I don't think many people can argue that and I think it's the millennial generation that's demanding it."
In five years McInnis sees Montgomery being able to recruit tech and digital companies because of things like the city's internet exchange, UBER coming to town and downtown development, which will attract and help the city retain millennials. Couple that, he says, with the affordable cost of living and it's a win for the city.