Bentley Spokeswoman Says Mason Not Returning to Office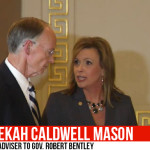 A spokeswoman for Gov. Robert Bentley says the governor's former political adviser – whose relationship with the governor became part of an impeachment probe is not returning to the administration.
Bentley spokeswoman Yasamie August issued the clarification Thursday after Bentley became testy when a reporter asked if Rebekah Caldwell Mason was returning to the administration.
Bentley became visibly irritated and asked why he would ask that question. Bentley added that he didn't think people cared as long as he was doing his job well.
August says the governor was frustrated over false rumors regarding Mason.
Mason resigned after Bentley's fired law enforcement secretary accused Mason and the governor of having an affair. Bentley admitted inappropriate conversations but denied having a sexual affair.
The impeachment probe was suspended this month.
(Copyright 2016 The Associated Press. All rights reserved. This material may not be published, broadcast, rewritten or redistributed.)
11/17/2016 3:04:28 PM (GMT -6:00)