Alabama Officer Fired After Shooting Into Moving Car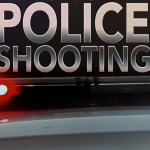 An Alabama police officer has been fired after superiors found he improperly followed a suspect into a neighboring jurisdiction and fired his gun without justification.
Al.com reports Mobile police announced Wednesday that officer Ivan Lopez was terminated for policy violations committed Saturday.
Police Chief James Barber said Lopez was on a DUI patrol when he followed a driver seen swerving across the center line into the city of Prichard – outside Mobile police's jurisdiction.
The chief says Lopez confronted the driver outside a nightclub and when the driver fled in his car, the officer fired at least five gunshots into the vehicle. Barber says police later found the driver, who had a gunshot wound to his leg.
The chief says the district attorney and the FBI have been notified.
(Copyright 2016 The Associated Press. All rights reserved. This material may not be published, broadcast, rewritten or redistributed.)