Stores Push Deals, Hope To Lure Shoppers For Holiday Stretch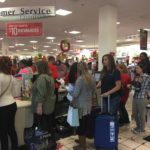 Stores are pushing deals and incentives like free shipping for the final week of the holiday shopping season, as new numbers show people are spending at a bit of a slower pace than last year.
Retailers pared down their inventories and offered more exclusive merchandise in a bid to avoid having to offer big discounts that shoppers have come to expect. But customers seem willing to wait, and stores are once again counting on last-minute buyers for the final stretch, particularly Saturday, which could be the busiest day of the year.
Research firm First Data says retail spending is up 2 percent, slightly slower the 2.4 percent gain at this time last year, with the rate of online spending far outpacing buying at physical stores from Oct. 29 through Monday.
(Copyright 2016 The Associated Press. All rights reserved. This material may not be published, broadcast, rewritten or redistributed.)