Weekend Adoptions Left Many Kennels Empty At Humane Society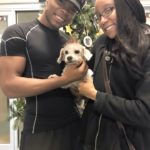 Scott Tears of Montgomery's Humane Society says it was a good feeling to walk into one of the kennels this morning to find that all but one of the dogs had been adopted. He says "it was just nice to have that breath of fresh air, no matter how long it lasts, to see how many pets have been adopted and to see more and more people go to shelters versus breeders to get their pets"
15 year old Kobe was the only one left. But not too long after, even Koby had a forever home.
Tears says that an average of 26 dogs come through the doors of the Montgomery Humane Society each day. So quickly, that during our visit George and Bluff were dropped off in hopes of finding a good home.
"They come in much faster than they go out, which is always struggle for shelters like ours." says Tears.
With so many of the small dogs adopted, Tears hopes it will help some of the larger dogs find homes as well. He says "this gives us an opportunity to really market our bigger dogs, which are harder to get adopted."
The shelter advises against adopting a pet as a gift unless it's well thought out but Tears does believe that the Holiday season has played a role in the increase in adoptions. He says "I think its just people have time during the Christmas season, they are able to take time off of work, the kids are off and everyone can get acclimated so it's a good time to adopt.