Authorities: Man Facing Child Porn Charges Found Dead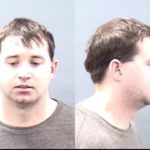 According to Montgomery County Sheriff Derrick Cunningham a man facing four counts of possession of child Pornography was found dead Thursday at a residence. Cunningham says it appears 25-year-old John Easterling took his own life.
Montgomery Police say the investigation into Easterling began January 19, when he was stopped by a school enforcement officer while attempting to leave Robert E. Lee High school with four students.
Police say Easterling made contact with the students on Facebook where they made plans to skip school. Police found a cooler full of beer and two boxes of condoms inside of Easterling's vehicle.
The female students, ages 14-17, denied having any knowledge of Easterling's intentions and say they believed they were just skipping school.
Police later obtained obscene photos from Easterling's phone that were shared between Easterling and a separate 14- year old girl.
This case is currently under investigation and police anticipate additional charges. Police believe there may be more victims and ask that anyone that has had inappropriate communication with Easterling or has knowledge of this communication to contact the Montgomery Police Department immediately.