GOP Running into Opposition from GOP on Tax Overhaul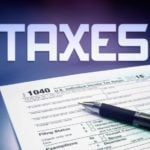 House Republicans face opposition to their plan to overhaul the way corporations pay federal taxes from a powerful group of lawmakers – other Republicans.
The Senate's No. 2 Republican and the chamber's top Republican tax-writer have both been critical. And President Donald Trump says he doesn't love it.
The House GOP plan would scrap the 35 percent tax on corporate profits and replace it with something called a "border adjustment tax."
The new 20 percent tax would be applied to the profits from all goods consumed in the U.S., whether they are made in America or imported. Profits from exports would be exempt.
House GOP leaders say the proposal would boost American manufacturers and help U.S. companies compete abroad. Critics say it could drive up consumer prices.
(Copyright 2017 The Associated Press. All rights reserved. This material may not be published, broadcast, rewritten or redistributed.)