Bentley Pushed Prison Plan in State of the State Address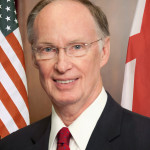 Alabama Gov. Robert Bentley used his State of the State address to push for his $800 million prison construction plan, saying overcrowding and understaffing had proven a "deadly combination" within prison walls.
The governor is proposing an $800 million bond issue to build four new prisons and close most existing facilities. Speaking on the first day of the legislative session Tuesday, Bentley said crowded and aging prisons were unsafe for those working and living inside.
Bentley said the state "cannot afford to wait any longer to solve this lingering, difficult and deadly problem."
The governor paid tribute to slain corrections officer Kenneth Bettis, who died after being stabbed last year.
The construction proposal faces an uncertain future in the Alabama Legislature.
(Copyright 2017 The Associated Press. All rights reserved. This material may not be published, broadcast, rewritten or redistributed.)