Montgomery Student Surprised With A "Magic Moment"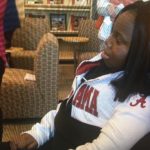 One Carver high school student was pleasantly surprised Friday morning as a local law firm partnered up with a non-profit organization to make sure that her physical disability doesn't stop her from pursuing her dreams.
16-year-old Marquisha Jones thought she was coming to the library to chat with attorneys who had heard her story and wanted to encourage her to continue to pursue her dream of becoming a lawyer. She soon learned that they brought a little bit more than encouraging words with them.
Marquisha's grandmother says that Marquisha was just 14 years old, when she was hit by a stray bullet in her spinal chord, leaving her a quadriplegic
. Marquisha wants to become an attorney to help others get the justice she never had. She says  "[I'm] thankful that people know my story and are willing to try to help me pursue my dreams"
Marquisha received a computer and an  iPad along with mounting equipment for her wheel chair. And she's especially excited about the voice adaptive technology that comes with her new gadgets. She says"it'll help a lot because i'm not able to type on my own".
Spud Seal at Hill Hill Carter law firm says that he and his colleagues jumped at the opportunity to sponsor Marquisha's "magic moment". He says that seeing the look on Marquisha's face was worth everything. Jayne Williams, partner at the law firm says they want to continue to help Marquisha in any way they can.
Sandy Naramore executive director of Magic Moments says that Marquisha's request is unique from others. She says "A lot of times our moments consist of a trip, a family trip to Disney world and its wonderful for their situation but the fact that Marquisha is really planning ahead to be able to help prepare her to reach this incredible goal that she has set "
Marquisha wants to attend Alabama State University when she graduates from high school.