Montgomery Residents React To New Attorney General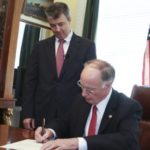 For many area residents, news of the recently appointed Attorney General Steve Marshall did not go over well.
Adam Russell says "I think it shows a little I hook you up you hook me up politics"
Michael Smith says "with him [Bentley] having him [Steve Marshall] as attorney general I don't think it's gonna work out"
Governor Bentley's decision to appoint Marshall as Luther Strange's replacement has raised some concerns. Russell adds "We were just talking about it I mean how crooked it seems that he [Marshall] stops the investigation just in time for the governor to appoint him to the senate seat".
Marshall says that one of his first priorities as Attorney General will be to find out if, in fact, there is an ongoing investigation of Governor Robert Bentley. One that many feel is long overdue.
John Ellison says "I think Bentley has done some things he shouldn't have and he needs to answer for it". Henry Pope adds "If our governor unfortunately is wrong then it should be corrected, according to the due process of law".
Some are skeptical an investigation would ever take place. Derrell Vaughn says  "I doubt it, this is Alabama politics" Michael Smith says "I think he needs to be investigated, but I don't think he will be investigated". Others like Henry Pope  have a different view on the matter. He says "If he has the moral obligation to go after what's wrong then he should. I hope that he has that in his heart".
Marshall has confirmed that he will run for Attorney General in the 2018 election.