Butler County Couple Indicted on Federal Charges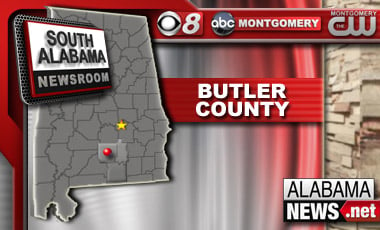 The Butler County Sheriff's Deputies arrested Sandra Taylor and William Robinson in February of 2016. Because their crimes allegedly involved the use of the United States Postal Service, the two were also indicted on federal charges.
U.S. Attorney George Beck's announcement of the federal indictments against Robinson and Taylor come a little more than a year after their initial arrest in Butler County. Authorities say the pair received the methamphetamine through the U.S. Mail.
"As the crooks get smarter they also get more violent. That's why we have these people standing with us here today," Beck said gesturing to the group of law enforcement around him. "Because it's going to take a partnership of local, state and federal law enforcement to get a handle on the violence that's going on in your neighborhood."
Butler County authorities also report they found numerous firearms and an illegal machine gun in Taylor and Robinson's home. Robinson has previous felony convictions, making illegal for him to own a gun.
"If you've been convicted of a crime, punishable by a sentence of more than one year and one day, that you cannot possess, receive , transfer or purchase a firearm," added Bureau of Alcohol, Tobacco, Firearms, and Explosives Resident Agent Jennifer Conway. "And we will continue to work closely with the agencies throughout the middle district of Alabama to combat firearm related violent crime."
Authorities didn't release the amount of drugs that were trafficked or where they originated. Sheriff Kenny Harden says he's happy arresting these two people could get some of the drugs out of Butler County.
"These are two people that are very dangerous to be on the streets in Butler County," Harden said. "And we're proud to get them off. They had been handling the methamphetamines there in Butler County for a good while. And it's cut down in that area since we got these people, they've been in jail. And hopefully they'll stay a long time."
The U.S. Attorney's Office for the Middle District of Alabama, Bureau of Alcohol, Tobacco, Firearms and Explosives, Butler County Sheriff's Office, U.S. Postal Inspection Service, U.S. Secret Service, Greenville Police Department, Autauga County Sheriff's Office, and the Montgomery Police Department helped arrest Robinson and Taylor.
If found guilty, the pair could face life sentences in prison. They're facing charges of conspiracy to distribute methamphetamine, possession with intent to distribute methamphetamine, possession of firearms in connection with drug distribution, possession of firearms while being a convicted felon, criminal use of the United States Mail, maintaining a drug-involved premise, and illegal possession of a machine gun.