ASU Holds "Lunch And Learn" Financial Seminar For Students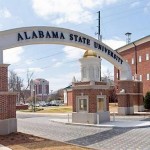 One of the best ways to attract a crowd of college students is with free food.
Today, Alabama State used the lure of free food to get college and high school students hooked on their financial futures.
The student government association at Alabama State, wants students to really dig in to financial literacy. "I saw an interesting curiosity with our students today and after with speaking with some of them after the seminar they really were pleased with what they learned and are ready to make the next step" says Shane Parks, SGA President, after Tuesday's "lunch and learn" session.
Students heard from Jonathan Avant, AVP Branch Manager of Montgomery PNC Bank, about managing their finances while in college. The bank manager stressed the importance of budgeting and saving, a topic participants say they really needed to hear more about.
ASU student Dystany Brunson says  "most college students come to college not knowing how to save money". Fellow student Andrew Asante says "we tend to always say we are broke but I believe that in college is the time that we have to learn how to use the little that we have".
Tuesday's seminar is only part 1 of a financial lunch and learn series. ASU student Victoria Nwidum says she hopes to see more of her peers participate in the the next one. She adds "Every student should, you need to know how to manage your funds. You need to know how to plan."
The next session of the financial lunch and learn series is scheduled for March 28th.