President Trump Delivers First Address to Joint Session of Congress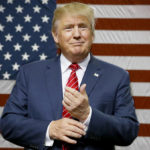 President Donald Trump opened his address to a joint session of Congress by condemning the recent threats against Jewish community centers and a fatal shooting in Kansas being investigated as a hate crime.
Trump on Tuesday said that "while we may be a nation divided on policies, we are a country that stands united in condemning hate and evil in all its forms."
The president had received criticism from some civil rights groups who had accused him of being slow in denouncing the violent acts. He had yet to discuss the murder of Srinivas Kuchibhotla, one of two Indian men shot in a bar outside Kansas City.
There have also been dozens of threats against Jewish community centers – and vandalism in Jewish cemeteries – across the nation in recent weeks. President Donald Trump is declaring that his administration "will shortly take new steps to keep our nation safe," pledging new executive action to restrict immigration.
Trump's initial ban on immigration from seven Muslim-majority nations was struck down by a federal court.
President Donald Trump gave a special shout-out to a joint U.S.-Canadian women's council set up to help women entrepreneurs.
Trump's daughter, Ivanka, was a big advocate for the program.
Trump, in his first address to Congress, said the council would help women get access to the networks, markets and capital they need to start a business and "live out their financial dreams."
President Donald Trump said the U.S. is taking strong measures to protect itself from "radical Islamic terrorism."
Trump used the term emphatically in his speech. It's a departure from former President Barack Obama, who opted not to use that term. Obama argued it emboldened extremists by playing into an incorrect belief that the U.S. is at war with Islam.
Trump said it's reckless to allow people into the U.S. uncontrolled from places where they can't be fully vetted. He said the U.S. can't be "a sanctuary for extremists."
The president said his administration is working on better vetting procedures and will soon take "new steps" to keep Americans safe.
For House GOP leaders, President Trump came tantalizingly close to endorsing their plan to overhaul the tax code by imposing a new tax on imports while exempting exports. But, he stopped just short. "We must create a level playing field for American companies and workers," Trump said. "Currently, when we ship products out of America, many other countries make us pay very high tariffs and taxes – but when foreign companies ship their products into America, we charge them almost nothing," Trump said.
Without providing specifics, Trump said he will propose to change that. For weeks, the White House has sent mixed signals about the House GOP plan, leaving lawmakers to interpret contradicting statements. Meanwhile, a growing number of Republican senators have condemned the plan.
(Copyright 2017 The Associated Press. All rights reserved. This material may not be published, broadcast, rewritten or redistributed.)