Davis Elementary Honors Dr. Seuss On Read Across America Day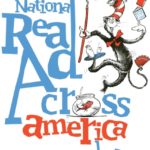 Faculty and staff at Davis Elementary in Montgomery dressed up as some of Dr. Seuss' most beloved story book characters.
Not only to honor the late children's book author, but to spark a love for reading at an early age.
They have also had several special guests filtering in and out of the classrooms all week long. Media specialist Sametta Fluker, says it really means a lot to the boys and girls when people take time out of their busy day to share a good book or two.
Fluker says "It just helps the boys and girls get that excitement going and just them helping our kids show that they have a love for reading as well. and I think if they have that love, the boys and girls will carry that love as well".
One 1st grade class enjoyed "Fox on Sox" read by Montgomery police officers. Officer Sachdeva says "when we come out here and interact with the kids they get this positive experience that there are good policeman out there who love them who care about them so I think its very important for us to spend time with the kids they are the new generation."
First grader Shudiamond Griggs says Read Across America week has been a blast for her, She adds, "I like reading because I'm the best reader in the classroom".
Principal, Alecia Alves says that they have had a lot more community involvement in Read Across America this year than in the past. She's already thinking of creative ways to keep the children engaged next year. She says, "my mind has been kind of brain storming some ideas [like] making it a little more intimate, to the point where as the student could read to them and then vice versa."
This year's Read Across America Day marks what would have been Dr. Seuss' 113 birthday.