Veteran In Tallapoosa Gets New Kitchen After Contractor Leaves His Old One Wrecked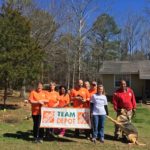 U.S. Marine corp veteran Ricky Wyckoff, hired a contractor to remodel his kitchen before he was admitted to the VA clinic for several months. He expected to come home to a brand new kitchen. Instead, he came home to what he calls a huge disappointment.
"It was unsatisfactory, it was unacceptable, there was no sink, there was holes in the floor coming from the basement, there were birds, rodents, able to come underneath the basement to come into the house. "it was just totally unacceptable" says  Wycoff as he describes what he saw when he came home from the hospital. An unfinished and wrecked kitchen, he says, by a contractor who didn't do what he was paid to do.
He says he was reluctant to ask for help but Home Depot associates and The lake Martin United Way, have stepped in to give this veteran a functional kitchen that he can enjoy….
Justin Kennamore, store manager of Home Depot says  "We're not just here to sell people the materials they need but we want to be good members of the community, we want to give back to the community and make sure that we are a partner and not just a business here we just enjoy doing the right thing."Courtney Layfield with the Lake Martin Area United Way says "I hope that he just feels like his life is just complete again…that his quality of life improves & that he's just happy. To see his smile, and see his happiness with us being here is just amazing."
Wycoff thought he was just getting new kitchen cabinets, but the United Way and Home Depot are giving him so much more. His new kitchen will have brand new appliances, counter tops and floors, He's also getting new floors in the living and dining room, fresh coat of paint and two new storm doors.
Wycoff says that he is forever grateful for their generosity and is glad that he doesn't have to wash dishes in his bathroom sink anymore. He says "I would like to advocate to other veterans, to know that there is help" Wycoff adds that it's been over a year since hes been able to use his kitchen properly so hes looking forward to the end of construction.