"Die In" Rally For Aids Awareness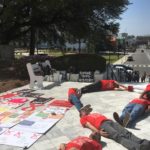 One group traveled to the capitol to make a statement in hopes of of raising awareness for HIV and Aids. This afternoon members of the group Alabama Positive Action gathered on the steps of the state capitol for what they call a "die in".
They briefly laid in front of the capitol and formed the HIV and AIDS awareness ribbon. This was in honor all of the lives lost to HIV and AIDS, and all of they lives they say could be lost if the state cuts funding to the AIDS Drug Assistance Program.
Members say they'd like to see the current budget increased to 5 million dollars.
Danny Holt says  "I'm a 25 year survivor of HIV and it is very critical that we get this funding in order to keep supplying the medications that I need to take to survive". Debra Richardson is also a 25 year survivor and says "personally I'm here because there are still people dying from HIV and AIDS and in this year, 2017, it makes no sense for folks to still be dying".
Members say that HIV and Aids affects a little under 20 thousand people statewide.