Montgomery Zoo Adds New "Stingray Bay" Exhibit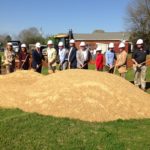 The Montgomery zoo is growing! Zoo and Montgomery city officials have broken ground on the zoo's latest exhibit…Stingray Bay!
The Montgomery Zoo has held multiple fundraisers over the last two years to raise money for the new exhibit. Construction will take seven to eight months and the exhibit is expected to open this fall. Officials say it will be a fun interactive addition to the zoo.
Meaghan Weir, marketing and public relations manager at the zoo says "we're excited to be able to offer the stingrays for the community to come out. They can touch and feel them, they can feed them, it's just going to be a new experience that you can't get in this area at this time."
The Exhibit will be in the Mann Museum and Outdoors area. The zoo will continue their funding for the stingray exhibit with their "zoo weekend" fundraiser this weekend.