Troopers: Deadly Crash on I-85 NB; At Least Two Fatalities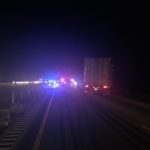 A deadly crash is affecting traffic on I-85.
State Troopers say multiple vehicles are involved and there are at least two fatalities.
The crash happened in the northbound lanes of the highway between mile markers 24 and 25 near shorter.
Authorities have not said when they expect to have the scene cleared.
Keep checking  www.alabamanews.net for the latest updates on this story.