60th Annual SLE Rodeo Kick-Off Parade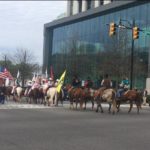 On opening day at the 60th annual SLE Rodeo the cowboys and cowgirls kicked things off with a bang. Thursday afternoon they paraded through the streets of downtown Montgomery.
The kick-off parade was a little shorter than usual because they did not have the wagon train, but that did not seem to discourage true rodeo lovers from lining the streets to watch the parade go by.
Ashley Moore, says that when she thinks of the rodeo she thinks tradition. She's been going to the rodeo since she was a child. She says "I mean we just love it, it's a Montgomery tradition and so it's just a given. When the rodeo comes to town, you go to the rodeo, and everybody knows you're gonna be there".
She and her husband are now sharing that tradition with their son Monty. Moore says "he's 3 and I don't know if I remember it since I was 3 but my granddaddy was always out here and my dad and my mom and I used to carry flags".
Now Monty gets to take the reigns. Moore says "this year he rode his own horse in the parade, and we were running a little bit behind but he really wanted to come so we just loaded up so we could make it happen for him"Moore says that she hopes that the Monty will make the rodeo a tradition of his own.
Tickets for 60th annual SLE Rodeo can be purchased online at Ticketmaster.com or at The Garrett Coliseum box office.