Gov. Bentley, Leonardo Announce Plans For Alabama Manufacturing Facility to Produce Training Aircraft for U.S. Air Force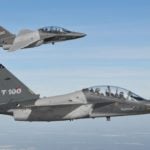 Tuskegee could become the manufacturing site of a new U-S Air Force training jet. And it could create hundreds of new jobs.
CEO of Leonardo DRS, a global aerospace and defense firm, says "We looked at a number of different locations and frankly Alabama , Tuskegee put together the best package". The company  plans to create an advanced assembly center at Tuskegee's Moton Field. That's, IF the company's T-100 jet trainer wins a US Air Force Competition for a next generation training air craft.
The 2-3 million dollar facility would create close to 750 jobs.Joe Turnham, Director of Macon County Economic Development  says "we think that number could go up to maybe 1,000 employees and those are direct jobs those aren't indirect jobs of retail or service industry, sub suppliers that may wan to locate here".
Turnham  says  that they are competing against giants of industry, but he's optimistic. He says "We have a chance and now our community will have to come together in order to help win the project…whether its social networking, calling their member of congress, joining a Tuskegee airman inc chapter somewhere and advocating for this."
Tuskegee Mayor Tony Haygood says that this kind of economic development would of course be huge for Macon County and he's confident that the Air force will make the right choice.  He adds "When you go back to the history of the Tuskegee Airman and the spirit that they created here in Tuskegee… in Macon County its still here, we still got people with that kind of energy with that kind of interest who can do a great job."
The governor and Macon County officials said today that the state and the community had put together a $100 million incentive package to try to help the company win the contract. The winner will be announced in December.