U.S. Construction Spending Rose to Nearly 11-year High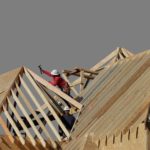 U.S. developers ramped up construction spending in February to the largest amount in nearly 11 years, led by more building of homes, highways and schools.
The Commerce Department says construction spending rose 0.8 percent in February to the highest level since April 2006, after two months of declines.
Builders are rapidly putting up more homes in response to strong demand that has pushed up prices for existing homes. Yet it hasn't yet been enough to relieve a shortage of homes for sale. The accelerated building could boost the economy this year.
State and local governments spent 0.9 percent more on construction, driven by roads, schools and recreational buildings.
The federal government, meanwhile, cut construction spending for the second straight month and has cut back 9 percent from a year ago.
(Copyright 2017 The Associated Press. All rights reserved. This material may not be published, broadcast, rewritten or redistributed.)