Maxwell Air Show Acts Prepare For Big Weekend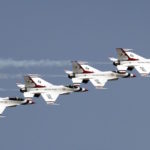 We are less than 24 hours away from air show weekend at Maxwell Air Force Base and performers have already started warming up. Friday they invited us to their pre-show arial demonstration for a small peek at what's in store this year.
It's been along time coming, but performers at Maxwell Air Force Base Air Show say that they are ready to put on the best air show yet.  One Thunderbird pilot  didn't want to give too much away, but she says that the line up is incredible this year and you'll definitely want to come out and see the air show for yourself. "From our team you are going to see some incredible flying our jets are going about 500 miles an hour about 3 feet apart they're going to see loops they're going to see rolls they are going to see opposing passes which is essentially head on passes from our solo pilots" says Captain Sara Harper.
She also says that you'll see more than just U.S.A.F. Thunderbirds in the sky. Harper says "the French demonstration team is here, the Wings Of Blue are here so there's a lot of incredible events and acts going on before us as well".
All of the excitement won't just be in the air, you can also get up close and personal with military aircraft on static display. "We have helicopters from the Alabama National Guard…cargo, and other types of air craft from the largest down to the smallest." says Air Force operations officer, Terry O'Grady.
This year the Air Force is celebrating it's 70th anniversary and 100 years since the U.S. entry into World War I. O'Grady says that the static displays at the air show will be diverse. He adds "we're going to have World War I air craft out front, and then right next to those, we're going to have the highest in technology, F-35, F-22…".
Air show director Douglas DeMaio says that they're expecting a full house this year. He says "we are prepared for 100 thousand people, and if we get anywhere close to that well be extremely happy, 50, 60, 70, doesn't matter we are going to have a great time no matter how many folks come out".
Organizers say that this year's show is all about inspiring the next generation. Today was also, STEM day at Maxwell.
Hundreds of local students stopped by to learn about science, technology, math and engineering and talked with pilots in addition to seeing a tiny preview of the air show.