Gas Prices Will Rise This Summer But Should Remain Low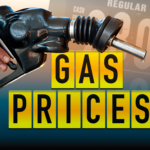 The U.S. government says the average price of retail gasoline will rise to $2.46 a gallon this summer as oil prices bounce back. But prices at the pump will still remain below levels of just a few years ago.
The Energy Information Administration says gas averaged $2.23 a gallon last summer. The hike reflects the 15 percent rise in oil prices over the last year. But oil remains far below its mid-2014 highs.
The agency says it believes gas will rise to an average this year of $2.39 a gallon, up from $2.15 in 2016. That means the average U.S. household will spend about $200 more on gas.
Still, that imaginary average household would still save about $300 compared to average yearly spending on gas from 2012 to 2016.
(Copyright 2017 The Associated Press. All rights reserved. This material may not be published, broadcast, rewritten or redistributed.)