Billboards To Support F-35 Planes In Montgomery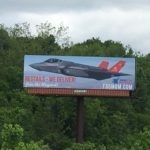 You may have noticed them around town – The Montgomery area Chamber of Commerce is sponsoring billboards across the city to raise awareness of the effort to get the F-35 to locate here. Leaders of the F-35 Task Force say it's important that the community be aware Montgomery is in the running as a possible home for a fleet of F-35A jets.
Leslie Sanders, chair of the F-35 Task Force says "community support is one of the areas that is looked at when the decision makers are trying to decide where to put the next installation…it's also important because it underscores the strong partnership and the value that our community on the military."
Paul Hankins, co-chair of the task force explains "we've really ramped up our efforts to really publicize what the F-35 is all about what this competition means to us in terms of jobs and economic impact".
The F-35 would replace the F-16 planes currently used by the 187th Fighter Wing based at Dannelly Field. Hankins says "they're flying some of the oldest F-16's in the Air Force, those planes are due to be retired over the next maybe 5 to 10 years or sooner".  Hankins adds that while the community support is vital to getting the F-35 to the, "The best hometown of the Air Force", he hopes that decision makers consider a number of other factors that set Montgomery apart from the competition.
"Our proximity to Tuskegee the history that's here and the community, is a big part of the heritage the Air Force needs to preserve and that we would like to see preserved by painting that red tail on the f-35 that is going to fly out here" says Hankins.
Surveyers will be in the area the third week in May. Their decision could be announced in December.