Update: Person of Interest in Custody in Shooting Death of 14-year-old Female Student Shot near Bellingrath Middle School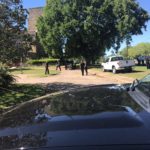 Montgomery Police Department reports there is one person of interest in custody in the shooting death of a Bellingrath student.
Montgomery Police Department spokesperson, Capt. Regina Duckett, says the 14-year-old female student shot this afternoon has died.
Duckett says she was transported to Baptist South where she was pronounced.
According to Police Chief Ernest Finley the unidentified  student was shot in front of near-by St. James Church. Finley  says officers are looking for at least two suspects.
No word on what may have sparked this shooting.
Montgomery Public Schools Superintendent Margaret Allen said, "This is such a tragedy. We offer sympathy and support to the family, and we pray that God will guide our community out of the troubling social ills that are hurting our children."
Montgomery Public Schools Superintendent Margaret Allen's statement on the shooting this afternoon of a Bellingrath Student.
State School Superintendent Michael Sentance also released a statement, saying, ""The loss of a child through violence is a moment that diminishes us all. Education is, by its nature, about the promise of the possibilities of  life, hope, and the future.  All of that was cruelly taken away this afternoon. We cannot fully express our sorrow for the student's family, her friends, and others touched by her life. Tomorrow, the Montgomery Public Schools will offer assistance to those who grieve the loss of this young student. And we pray for all."
Anyone who can help police find the shooter in the case is asked call Crime Stoppers at 215-STOP.
Keep checking this story for updates.