Funeral Arrangements Set for MPS Student Jaquerria Timmons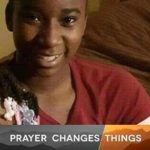 The funeral arrangements for 14-year-old Jaquerria Timmons have been announced.
Services will be held at True Divine Baptist Church located at 4525 Virginia Loop Rd, Saturday, May 13 at 2:00 pm.
Visitation is scheduled for all day Friday, May 12 and at noon on May 13.
According to Montgomery Public Schools, the family needs assistance with funeral expenses.
Anyone wanting to donate is asked to send donations to following:
Cummings Funeral Home
1120 Bragg St, Montgomery, AL 36108
(334) 265-9221.
Timmons, a Bellingrath Middle School student, was shot and killed shortly after leaving school on Monday, May 1.
Police have arrested and charged an unidentified juvenile in the case.