Demolition of Historic Webber Building Is Underway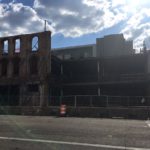 We have an update this evening on the historical Webber building in downtown Montgomery.  You may remember the building was taken over by a company called Marjam, last year.
The Webber building, also known as the Montgomery theater, dates all the way back to 1860.Soon, it will be no more. In its heyday, it Featured numerous performers… including John Wilkes Boothe, the actor who assassinated Abraham Lincoln.
"we're doing it a slow process, we are reclaiming all of the brick all of the old hard time lumber. the window surrounds all of the ornamentation."  says project coordinator Rick Smith.
The former landmark is well on its way to being demolished, though Smith says the process could take a while. He says "well we're taking it down like it is, for one the economy of the resale, of the items that are being taken out, like the historical items".
Historical items like the bricks that Smith says were handmade by slaves. They're being removed one by one, and sold to be used for other buildings.
"the window surrounds are very valuable items, they are cast iron , they will last forever we've had a lot of inquiries and several sales of those items they are quite unique"
The cast iron window molds are being sold for thousands of dollars. So far Smith says that two floors have been stripped, but they still have two more floors, including the basement before the project is complete. The project is expected to be complete in about 4 more months.