Starbucks Customers Say Outage Leads to Free Drinks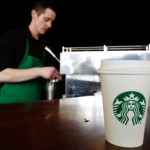 Some Starbucks customers are posting on social media that they were getting their drinks for free because of a payment system outage.
Starbucks Corp. spokesman Reggie Borges says a "limited number" of stores in the U.S. and Canada were temporarily offline as a result of an overnight technology update. As of Tuesday afternoon, he said "virtually" all the stores were back up and running again, with the few remaining stores scheduled to be back up shortly.
On Starbucks' Twitter account, the company was apologizing to customers, including one who said her store was unable to sell her a latte.
Starbucks also suffered an outage in 2015 that prompted stores to close early, which the company blamed on an "internal failure during a daily system refresh."
(Copyright 2017 The Associated Press. All rights reserved. This material may not be published, broadcast, rewritten or redistributed.)